Caviar
Caviar: what is it?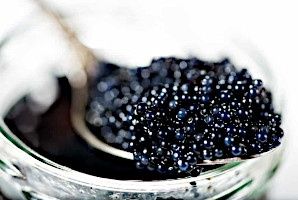 No one in our latitudes needs to explain what "Caviar" is. As a rule, this word usually means black beluga or sturgeon, as well as red salmon caviar, although there are many other types of this product. It is very nutritious and contains many trace elements, but it is considered a delicacy because of the very high price, first of all, caviar. It is due to the rarity of sturgeon, which mainly lives in the Caspian Sea, where its extraction is prohibited. The same black caviar that you can buy is (if you do not take into account poaching) extraction from marine plantations. But due to the long maturation of sturgeon (7-10 years), artificial cultivation of this fish for the purpose of collecting caviar still does not cover the entire demand.
Caviar: what is it?
It is logical that such a delicacy when serving it on the table should only go into a set of vodka glasses with caviar in a Faberge crystal egg with inserts of gilded brass corresponding to the dishes. And mankind invented such a container a long time ago – it's a caviar bowl. It was created specifically for caviar, and the design of this type of tableware in terms of luxury should not have been inferior to the contents. Therefore, the eggs were made of such refined work and of such expensive materials that only very wealthy people could afford them. As, however, and caviar.
It is logical that in this state of affairs, the eggs are made of materials like silver and gilded crystal. Such caviar containers are available in the online gift shop of the premium class Fama. Silver caviar bowls are figurines of marine life in which caviar is stored. The crystal ones are the brainchild of the famous Italian brand Cre Art. Since the second half of the XX century, he has been creating a variety of highly artistic products, from lamps to glasses, made of glass and crystal. In any case, both types of caviar will not only brilliantly fulfill their direct function, but also complement any interior or festive table with their beautiful appearance. Where to buy caviar for a gift?
The functionality and decorative appeal of the caviar bowls makes them an ideal gift that you can buy or order in the Fama online store. With such an elite gift, you will not only please the hero of the occasion, but also demonstrate your good taste. And such an opportunity is just a couple of clicks away from you.
Caviar has been mined and eaten for a long time. Historical information about this is about the ancient Greeks. And even then caviar was considered an exquisite dish. This means that such a product required an appropriate feed. Most likely, this is how the first caviar appeared. In any case, in the Middle Ages and later, such containers were in the most luxurious houses. And it was expected from them that they would not be inferior in degree of gloss to the delicacy that is in them. Black caviar, a kilogram of which costs as an IT specialist's salary, cannot be served on the table in an ordinary vessel.
The caviar bowl will not only decorate any festive table, but will also serve you as a gift for a person close to you. And if the occasion is particularly solemn, you can add a jar of expensive black or red caviar to such a present.
Auction of works of art and antiques art-picture.ru provides the opportunity to purchase
purchase lots on the topic are presented "Caviar"