Bears
Bears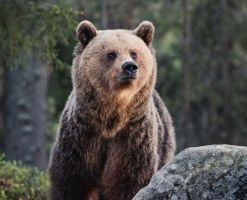 Bears
A strong, brave animal has won the honorary title of king of beasts. Clubfoot made of noble porcelain will become a beautiful piece of furniture, will bring a bright accent to a boring environment. The figurine of a bear made of porcelain surprises with its realism, the masters managed to convey the character of the animal, the smallest details of the wool.
Talisman onhappiness

A porcelain figurine of a brown bear made of durable, durable material will become a home relic, a bright decoration, a keeper of the family hearth. The figure is not afraid of moisture, perfectly tolerates temperature changes. It does not fade, does not lose its magnificent luster over the years.
The animal will delight the owner with beauty, will become a favorite amulet, symbolizing:
• Indomitable fortitude.
• Wealth.
• Courage.
• Nobility.
• Loyalty.
Porcelain figurines of bears that keep the hearth can be inherited, given on a special occasion. Fans of non-standard collections can create an unusual porcelain "family" by buying several club-footed representatives of other species from sparkling porcelain.
Creative gift
Statuettes of noble animals are a good alternative to boring, standard gifts. You will like an unusual surprise:
• Collectors of porcelain products.
• Connoisseurs of realistic figurines.
• Children. An interesting toy, room decoration, personal amulet.
• Boss, business partner, colleague. The beast represents power, power, strength.
• Spouses. The figure will serve as a symbol of loyalty in a couple.
• Friends.
• Relatives.
• Newlyweds.
Exquisite figurines will show a person your attitude, loyalty and respect. Order non-standard gifts made of noble porcelain from the best masters of Russia, we will quickly deliver them to any region.