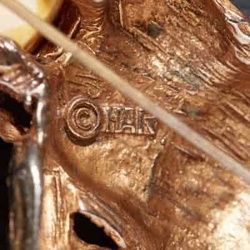 The Har brand belonged to the New York company Hargo Creations.The company was formed by Joseph Heibronner and Edith Levit in 1955.
Joseph was born in 1893 in Munich, Germany and became a US citizen in 1948. He married Edith in 1952, together they founded HAR in 1955
At that time they lived in New York.Joseph died in August 1968, probably therefore Roberto could not find any references to Hargo after 1967.
Marking "HAR" probably arose from 1955 to 1957.
HAR jewelry is one of the most in demand among collectors.Especially the famous collections of "Har": "Dragon", "Cobra" and "Chinese" are most appreciated by collectors of the headset with the full number of objects included in it.
Other "HAR" jewelry that quickly gain popularity, these are enamel fruits, vegetables, flowers, bizarre animals and funny men.

Classically made jewelry with unusual "stones" are also actively sold out vintage jewelry collectors.
Thanks to Roberto and Sue research, it became known that the Dragon series was patented in April 1959.Unusual stones, using in these jewelry, are called "Dragon tooth".Also in April 1959, the eastern series "Gina" from Har was patented.
In May 1960, the Asian decorations, the famous Chinese from HAR, was officially registered.
The next patent was received only 7 years later - in 1967 and these were less curious brooches in the form of insects.From all this, we can conclude that HAR was a bright star in the sky of jewelry jewelry.The star, which brightly lit up in the late 50s and immediately went out, leaving for descendants, experts and connoisseurs of vintage jewelry, real works of art.