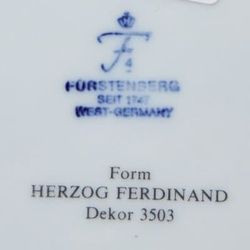 Fürstenberg is one of the oldest porcelain manufactories in Germany.Founded by the Duke of Braunschweig Charles I January 11, 1747 year after the opening of the Maisen manufactory.The unique porcelain from Germany is the Fürstenberg manufactory in the best museums in the world and prestigious private collections.The exquisite German porcelain "Fürstenberg" can be seen in high -class hotels and restaurants in Europe and America.
Over his more than 250-year history, Fürstenberg earned a reputation as an unconditional leader among manufacturers of porcelain of the highest quality and design for setting table and gift products.
A feature of the manufactory is a unique assortment of porcelain products, in which the forms and decorations of all the most important historical periods of the development of the factory are preserved.In the collection of products of the Fürstenberg manufactory, Greek, imperial classical styles are represented, as well as modern forms and decorations of designers with the world name of Germany, Italy, France.
Unique works of the Fürstenberg manufactory can be seen today in the best museums in the world and prestigious private collections.
Until recently, the Fuhnberg castle was located in the Fürstenberg Castle, and now there is a Fürstenberg factory porcelain museum, which is a historical attraction of Germany and is considered one of the most visited objects from all countries of the world.
At the same time, the Fyurstenberg Castle serves as the venue for the official meetings of the German Chancellor with the heads of state and government of foreign countries.
The solemn dinners that accompany these protocol events are held in the central hall of the castle and served by the exquisite porcelain dishes of the Fürstenberg manufactory.
The company "Trade House of Saxony-Farfors" is an exclusive distributor of porcelain dishes of the Fürstenberg manufactory on the Russian market.
The new Services Central Park, developed by the designer of Mikhalya Dorfel, look great.A soft, curved, wave -like shape of products is very natural."Creating my design, I tried to combine the modern lifestyle with the harmony of nature itself," says the author - designer, awarded many awards.