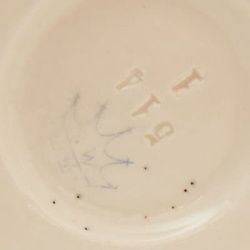 There was a manufactory Founded in 1894. In the city of Trnovany near the city of Teplice (German: Trn Teplitz) E.stellmacherem, whose Viennese merchant Ernst Wahliss bought it.After his death in 1897.The manufactory was inherited by his sons- Gerhard and Erich, who renamed her in Alexander Porcalein Works and owned her until 1924.
In 1900, approx. 300 people worked at the manufactory and there were trading in Vienna, London and Berlin.K.Klaus, F.studigl, K.Gaal and J.E.Margold worked with manufactory. E.Wahlis bought up all possible forms of service forms and figures of the liquidated royal manufactory in Vienna and in the manufactory in Trinovs so called.The old vein, which adapted one of his traded brands.
In 1945The manufactory was nationalized.