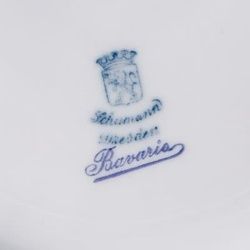 Scheibe-Alsbach factory (Scheibe-Alsbach, Scheibe-Alsbach).
Founded in Thuringia in 1835 . Ludwig Oels and within a few decades gained worldwide fame: since 1857 it has been widely known as the first Thuringian factory producing large-sized figures (mainly religious - Madonnas), tombstones, as well as busts of famous poets and composers, animalistic compositions and products in the Rococo and Biedermeier style. Since 1863, the owner of the factory is A.V. Kister (A.W.F. Kister), the name of the factory was changed to Porzellanmanufaktur A.W.F. Kister and lasted until 1962, In 1972 the factory was nationalized, joined the fine porcelain association in Licht.
The factory's products received 2 silver medals and 6 Grand Prix at national and international exhibitions, and in 1911 - 12 gold medals at the exhibition in Turin (Italy). Production is carried out exclusively by hand. Figurative porcelain is produced: busts of poets and composers, animal figures, dancing figures, etc. (from classical compositions to historical scenes), as well as vases, lamps and tombstones. Selected raw materials, high-quality porcelain of a special grade and improved polishing technology make it possible to produce figures thought out to the smallest detail.
Tonwarenfabrik Heinrich Schumann (1876 - 1879)
Originally from Angelroda (Thuringia), Christian Heinrich Schumann (*1822, + 1884) had a small pottery workshop in Arzberg, which had to be closed because it interfered with the laying of the railway, which was completed in November 1879 and connected Arzberg with the railway network.
Porzellanfabrik Schumann & Riess (from 1881 to 1892).
Together with businessman Riss as a financial sponsor, Christian Heinrich Schumann founded his new porcelain factory right under the Jacobsburg Castle, next to the market square in the city center and, ironically, right next to the railway tracks, because of which his previous business was closed. Of the four children of Christian Heinrich Schumann and his wife Christiane (*1838, +1928), only three had an impact on the further history of the company.
Only the youngest child named Karl (*1871, +1926) was really interested in the factory and household affairs, and the eldest son Christoph (*1864, +1916) helped from time to time, but often started endless discussions about how the plant should work. The third son Eduard, on the contrary, stayed away and focused on his studies.
In such a situation, it was only clear that shortly before Christian Heinrich Schumann's death in 1884, he declared that Karl should inherit the factory, since he not only showed the greatest interest, but also impressed his father more than once with technical knowledge and the ability to quickly adapt to various situations. However, Carl was not old enough to officially go into business when his father died, and therefore the company was run by his mother Christiana.
Porzellanfabrik Carl Schumann G.M.B.H. & Co. KG. (from 1892 to 1923)
The factory was renamed on the 21st birthday of Karl Schumann I, but his mother still remained in power until she resigned in 1896, when Karl married. The business grew steadily, and therefore Karl, as a porcelain specialist, together with his brother Eduard as a manager opened a second business in 1904, Westdeutsche Porzellanfabrik Duisdorf GmbH in Duisdorf near Bonn (North Rhine-Westphalia). Christoph Schumann had previously married into the wealthy Schreider family of landowners in Schwarzenhammer and in 1905, together with his father-in-law Karl August Schreider, founded the Porzellanfabrik Schumann & Schreider company there.
Years passed, and the business grew steadily, which allowed the company to build a library and a dining room for its employees, as well as provide cheap housing for employees who initially lived away. Thanks to his public activities, Karl Schumann I eventually became a privy councilor in Arzberg, and his two sons Heinrich and Karl Schumann II (*1898, †1975) were often seen at the factory, greedily absorbing knowledge.
Porzellanfabrik Carl Schumann AG (from 1923 to 1994).
On July 19, 1923, the company was transformed into a corporation, and everything seemed to be fine, but three years later Karl Schumann I died at the age of only 55. He was succeeded by his son Karl Schumann II, who was studying in America at the time and later founded the Schumann China Corporation in New York, which distributed Schumann products in the United States until the late 1920s. During his absence, the factory was run by his brother Heinrich. While the new market in the United States initially seemed very promising, the global financial crisis that began in New York on October 25, 1929, put a dramatic end to almost all of Schumann's export efforts. But the "rear" was not much better, and the relatively short-lived business in Duisdorf, which specialized in jewelry "Zwiebelmuster" (Blue Bow) and "Strohblume" (Straw Flower), remained in the hands of the family only until 1935, before it was sold for economic reasons.
It should be noted that Carl Schumann had quite interesting business relations with companies from the USA, and the factory was one of the few that produced products for Ebeling & Reuss, which was then sold under the brand name Erphila Germany. Another little-known fact is that the Karl Schumann A.G. Porcelain Factory was one of the few German companies that were allowed to produce Mickey Mouse figurines under a Disney license. To promote these porcelain products, they used a beautiful advertisement created by Zereiss & Co., featuring little Mickey performing a traditional Bavarian dance. Most of these so-called "non-Aryan" products were destroyed during the Third Reich from 1934 to 1945 and are therefore among the rarest European pre-war Disney collectibles.
After the Second World War, the company supported many former Sudeten Germans by offering housing and work, and after founding the Schumann-Wohnungsbau GmbH house-building company in 1950, it eventually tried to repeat the previous success, reaching a maximum number of 1,053 workers and 70 employees in 1953/1954. At that time, the factory used three round furnaces, as well as three complete tunnel furnaces, since many items were required for the local brand.