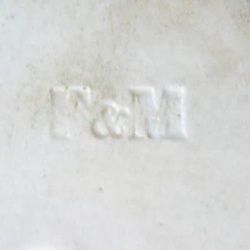 Pirkenhammer factory - founded in 1803 in Bzhezov (Czech Republic) by Saxons Friedrich Hoecke.
Eight years later, in 1811, the factory passed to Johann Martin Fisher and Christoph Reichenbach, then in 1824 his son Christian (Christian) took the place of Fisher, who since 1846 became the sole owner of the company.
In 1857, the factory was transformed into the joint -stock company H. Fisher and L. Mieg (Christian Fischer und Ludwig von Mieg, Pirkenhammer), under this name Veshda in Epiag and exists to this day.The factory made table and decorative porcelain, tea and coffee sets, and since 1840 and sculpture.