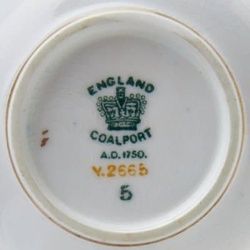 The factory was founded in 1796 .
In 1796, from small factories in Coleport, John Rose created another English porcelain factory, which in 1799 he combined with the purchased factory in Cogley. In 1819, the factory was managed by the then famous ceramic artist W. Billingly, who remained in Coleport until his death in 1828. His specialty was artfully painted flowers, and he decorated the factory's products with them.
In 1822-1823, the Coleport factory acquired the molds and equipment of factories in Nantparva and Swansea. In 1841, after the death of its founder, the factory passed to his nephew William.The company exists to this day under the name Coalport China Ltd. (Co-Ulport porcelain) and produces mainly high-grade tableware.