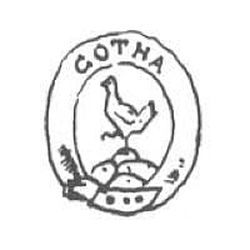 Porcelain manufactory of Goth.
Founded in 1757 Wilhelm theodor Rotberg.He had to work a lot to come to satisfactory results.Only after in 1772 it was possible to attract skilled skills of Christian Schulz, Johann-Georg Gabel and Johann-Adam Bram to the manufactory of skilled masters, and the production reached the heyday, which provided him with the leading place among Thuringia enterprises.For a long time, these masters were tenants of the manufactory.
According to reports, Schulz improved the mass and icing.Thanks to magnificent murals, Goths have gained popularity.Among the painters of the manufactory, new names appear: Schmidt, who performed plot compositions, landscapes, flowers, a backie - a master of landscape, Frey, who wrote flowers, arabesques and ornamental compositions.
In 1802, six years after the death of Rothberg, the manufactory was bought by the hereditary prince August Gota-Altenburg and leased Henneberg, who joined his former tenants, but gradually pulled his partners and was from 1813 to 1834 to the sole manager of the manufactory.In the future, for a long time, until 1881, the production remained in the possession of its heirs.