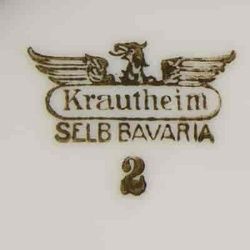 The talented artist Johann Christop Krautheim was born in the city of Zelb on November 5, 1854 in the family of Mason Johann Wolfgang Krautheim. From 1861 to 1868, Christoph studies at a school for workers and at the same time visited Sunday school.
Already in the student years, his giftedness and interest in painting and graphics are manifested. At the age of 14, the father sends him as a student to the Porcelain Plant Zeidler & am;Co. (Selb-Plossberg), founded in 1866, where Jakob Zeidler himself becomes its teacher. On November11, 1874, Christophe was being called into the army and he leaves for the 7th Infantry Regiment.
After two years of service, he moves to Bayreuth, and from there, at the invitation of Max Jena) he returns to Zelb and receives the position of head of the art studio. So his career in the porcelain business begins. In this field, Christophe managed to achieve excellent results and inIn 1884, he was founded by his own porcelain painting studio. Moreover, in 1889, his brother Richard Adelberg (Richard Adelberg) joins him and the studio is renamed Porzellanfabrik Krautheim & AMP;Adalberg.
Success exceeded all expectations and in 1912 they are decided to open their own production of porcelain.
Mills, three round fire furnaces were installed, the workers' team amounted to 150 people. The 20th and 30s of the XX century, the production of the factory is actively involved in exhibitions and fairs. The high quality of the porcelain and skillful decor puts the factory among one of the leaders of the porcelain production.And the outstanding master Christoph Crautham died in 1933 and his second son Richard took the duties of the manager. Despite the difficult years of World War II, the factory manages to survive and when it was reorganized to achieve, at lower costs, high quality porcelain. After the war, in the 50s, in the 50sYears have been making a lot of efforts to modernize the factory, new technologies are used, new machines are commissioned, but despite this, the company went bankrupt after 25 years in 1977.