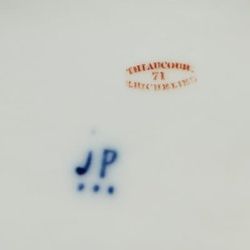 Jacob Petit (Jacob Mardochée) was born on June 18, 1797.Jacob Petya studied at the studio of the artist Antoine-Jean Gro, a student of Jacques-Louis David.
In 1822, Petya joined the Sevres Manufactory. In 1830, he opened a porcelain factory in Fontaineblet on which 80 workers worked, and a studio in Paris (26 Rue de Bondy - Actuelle Rue René -Boulanger, Puis Rue Paradis -Poissonnière - Actulle Ruede paradis).
Petya specialized in the production of decorative porcelain: dishes, vases, bottles for spirits, smokers, inkwells, press fad, clock, internal lighting. In 1834 - 1839, he participated in many exhibitions (Industrial Exchibition (industrial exhibition), World Fairs (WorldFairs), where he collected many awards.
In 1848, his factory went bankrupt, and in 1868 the Parisian studio Petit completely burned down in a terrible fire. The first on December 1868, he entered the Beaujon hospital, where he dies four days later from a stroke.J. Petit was buried on December 8, 1868 in a mass grave at the Père-Lachaise cemetery.