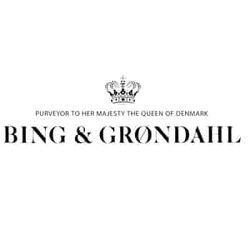 The foundation of the factory -1853
The porcelain factory originated in Copenhagen in 1853 . It was founded by the ceramicist Friedrich Graendal together with the merchant Jacob Hermann Bing. The artistic director for many years was the Danish artist Peter Krohn, who had the same strong influence on this factory as Krog - on the Copenhagen Royal Manufactory, the best work of Krohn is considered to be a service made in the eighties, the main motif of which is the figures of herons. It was an ambitious attempt to compete with the so-called "swan" service, made in the XVIII century in Meissen by Kendler for Minister Bruhl. Krohn's successor was also a good artist Willumsen.
He introduced an interesting novelty into the decoration of products. A drawing was pressed into the still soft mass with a sharp tool and the recess was then filled with contrasting paints. After firing, an effect was obtained that was not found in other factories. During their reign, almost simultaneously with the Royal Manufactory, Kron and Willumsen used the new porcelain mass of Zeger, as well as the related technique of underglaze painting. When decorating vases and plates, a wide palette of colors was used, which made it possible to burn at a lower temperature. The factory's signature motif was flowers - both local irises and exotic orchids - in the widest range of shades, from pale lilac to dark blue.
The specialty of Bing-Graendal was (and still is) porcelain figurines designed by outstanding sculptors. Dahl, Jensen and Nielsen created many animal figures. Dogs, tigers, monkeys, pheasants and gulls typical of the Danish landscape are not only reliably depicted, but also shown in a movement or pose characteristic of each of them. Another sculptor, Ingeborg Plocross-Irminger, is the creator of female images: for example, a girl with a guitar or a mother hugging a child. Chess, the author of which is Kai Nielsen, is original. Chess pieces represent realistically depicted human images.
Now, in addition to the mentioned vases, plates and figurines, the factory produces luxurious table porcelain and faience.