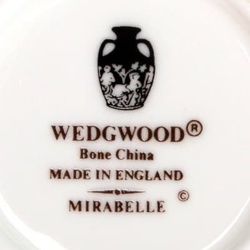 The foundation of the factory is 1769.
In the development of elegant porcelain, the Englishman Josius Vedzhwood (1730-1795) played an outstanding role.He came from a family engaged in a pottery in Staffordshire for many generations, and devoted his whole life to this profession.He was the author of a number of improvements in pottery technology, and between others - the inventions of the pyrometer, which makes it possible to accurately measure the temperature of the firing of ceramics.However, he earned worldwide glory as the creator of new ceramic masses that are not known to the house.He made his discoveries at the Etruria factory near Newcasl, which belonged to him.Admiring the beauty of Chinese red ceramic clays, he created, combining clay with different colors, masses similar in appearance to agate, marble and a turtle shell.Products developed from these mixtures had natural veins (and not drawn on the surface, as was done until then).Adding powder basalt, he received a very black mass, which then became called basalt.In 1781, he managed to get a ceramic substance, similar in structure to porcelain and tinted with metal oxides.But in a genuine sense, these were not porcelain or ceramic clay.This mass is called the porcelain of Vedzhwood.Blue products in a wide range of tones looked very impressive-from light blue to dark blue.
Such products were called jasper.Vedzhwood also invented other tints of the masses - pink, yellow, gray -green or purple.As a rule, the products of Vedzhwood were not glazed, but were covered with a relief in the form of a camera, most often white.Decoration was in a classic style, similar to an old form and theme.Copies of antique vases and busts were made from the black basalt mass.Vedzhwood also produced tea and coffee sets and vases, decorated with already mentioned relief.In addition to dishes, at the Vedzhwood factory, many other items were made: figurines, cameras, jewelry and trunk for decorating furniture and walls.In the Polish meetings there is an oval camera from jasper ceramics with the image of the head of King Augustus Ponatovsky.
Vedzhwood improved the earthenware mass, which allowed to produce dishes with thin walls.He
He called her "the queen's dishes."It was from it that in 1774 the famous service for Queen Catherine II was made, consisting of two hundred and fifty -two objects decorated according to ancient engravings.In some periods, the factory also produced bone porcelain.
Famous artists who passed on his patterns and models collaborated with Vedzhwood.Among them, the most famous was the sculptor John Flaxman (1755-1826).Most of all, products made during the life of Jio Vedzhwood, that is, until 1795, as well as during the factory control of his son.
At the turn of the XVIII-XIX centuries, almost all European factories then adopted the style of Vedzhwood products.In Poland, such products were produced in Ratsibuzh and Tsmeluv.