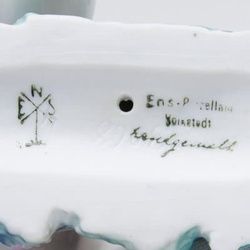 The foundation date of the factory is 1898. Karl Ens the Younger, with their sons, left the Volkstedtsky (Volkstedt) factory, owners of which since 1861 have been Karl Ens - Senior and Triber.The company at that time was called "Triebner, Ens & amp;CO ", and Karl Ens - the youngest with their brother Eduard Enss, worked in her with porcelain designers and, thanks to them, a large number of company items caused delight and were in great demand.The factory in Folkstedt produced a wide range of products from mugs and oils to huge decorated dishes and washbasins, from tea service to vases and figurines.
The ENS dynasty has long been associated with porcelain.Johann Karl Ens back in 1780 stood at the origins of porcelain case in Thuringia, which was later continued by his son Frederick.Frederick from the age of 19 worked in his own workshop, and already in 1937 he won various awards in Sydney, Melbourne and Vienna for his unique genre paintings and hunting scenes.By 1855, 150 people worked for him in Lausha.
Karl Ens-Jr. continued and improved the centuries of his predecessors and until 1910 he was the owner of the company, which after him lead his son Paul Ens.In 1927, Edward and Herman ES stood at the helm of the company, and in 1959 the Government of Germany became the main shareholder of the factory and in 1972 the factory was nationalized.From 1972 to 1974, the factory was called "Veb Unterglasurporzellanfabrik", and then from 1974 to 1990 - "Betriebsteil 1 des Veb Sitzendormanmanmanumanmanufaktur".In 1990, she was again privatized.