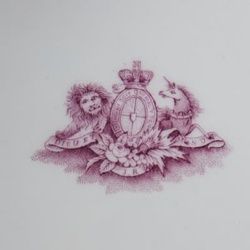 The clay manufactory was founded by the Ridgway brothers in 1792 in the town of Keldon, Northern Staffordshire.Soon, the brothers divided the business between the sons, with which the Staffordshire porcelain dynasty of Ridgei, which lasted until the middle of the 20th century, periodically changing the names of the companies (Ridgway and Sons, J and W Ridgway, John Ridgway & Amp; Co, Cauldon Ltd, Cauldon Potteries LTDDFinally, since 1930 - Royal Cauldon).
Since the beginning of the 19th century, the company began to produce high -quality bone porcelain, and in 1850 one of its parts, led by John Rijvey, became the supplier of the royal court, which allowed the royal crown to add to the stigma of the company.
In 1962, the company was divided, one part (porcelain) was sold to the pottery company EW Brain & amp; CO, soon purchased by Weedgwood.The second, which engaged in ceramics, part of the company was sold to the Bristol ceramic company, the Pountney Ltd, which went bankrupt in 1977.