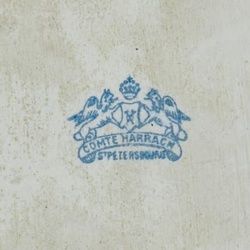 Comte Harrach (Comte Harrach) and his porcelain factory.
The German by origin of Count Ferdinand Garrah was noted in the history of the porcelain of the Russian Empire by introducing high-quality European porcelain into Russia or ordering porcelain underwear from local manufacturers such as M.S.Kuznetsova, subsequently engaged in the painting of products and applying its personal stigma.Sometimes the products did not brand.
Also, Count Garrah owned glass and porcelain production in the Czech Republic.Count Garrah's trading houses for the sale of crystal and porcelain products were located in Moscow and St. Petersburg.
Count Garrah produced porcelain items together with manufacturers of France and Poland, as a result of which several brands were placed on porcelain products at the same time.
So during the collaboration of Count Garrah with a widely known Polish porcelain factory, very interesting porcelain and tea sets were produced, which were characterized by luxury and highly artistic decor with gilding abundance.The products were distinguished by the relief of the porcelain surface.
Count Garrah's products distinguished its own decor, the bright peculiar beauty of manual painting or decolleys with a paint in accordance with the European taste of that time, similar to the decor of famous brands of European porcelain such as Limogen.
The porcelain manufactory in the Polish city of Tsmelov (CMELOW) has been known as a manufacturer of high -quality porcelain for more than 200 years.The Cmelow brand has always maintained competition with European porcelain brands, maintaining high standards for the quality of porcelain products.It was French porcelain that always served as a sample for the porcelain production of Cmelow.
The porcelain factory Cmelow has implemented prestigious orders of the aristocracy, the Government of Poland, various diplomats and significant people in different historical periods.According to the original style in Cmelow workshops, dining rooms, tea and coffee sets, as well as separate dishes for a free table layout, were painted by local artists.Cmelow porcelain-porcelain plants were covered with cream glaze.Some objects were made of colored blue and pink porcelain mass.In addition to dishes in different periods, the plant produced a decorative small sculpture as interesting for collectors.Cmelow plant is currently continuing its work.COMTE Harrach ST porcelain brands.Petersburg or Comte Harrach Moscou is quite rare for the antique world of modern Russia.Under this brand there are very outstanding products with manual painting precisely from porcelain, which are desirable for most collectors and lovers of antiques due to their high quality and memorable decor.Count Garrah had several options for stigma: "Comte Harrach st Petrsbourg", "Comte Harrach Moscou", they corresponded to the location of his trading houses in St. Petersburg and Moscow.
1st World War (1914-1918).
In August 1914Germany, and then Austria-Hungary (the birthplace of Count Garrah) declared war on Russia.Anti -German sentiments reigned in the country.The German embassy was defeated in St. Petersburg, representatives of German firms, shops and cafes burned.German speech was prohibited.And even Empress Alexandra Fedorovna, the wife of Nicholas II, did not escape complaints about her German roots, the population was set against her.The owners of German and Austro-Hungarian surnames were persecuted, and hastily left the country.As a result, at the end of August 1914, Nicholas II renamed the name of St. Petersburg from the German (Dutch) name to Petrograd "In Russian Manner".As a result of these events, the stigma of "Comte Harrach Petrograd" appeared.