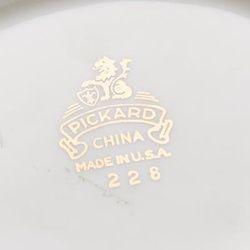 Wilder A. Picard (1857–1939) He founded the company in 1894 , offering their customers manually painted gift dishes, art objects and, finally, tableware of the highest quality.
Picard gathered a group of exceptionally talented porcelain artists, men and women, many of whom emigrated from Europe to create this unique American style of manual painting of porcelain.
The popularity of this art grew quickly, and as a result, the company has become one of the leading American companies in the production of high -quality porcelain, known both then and now thanks to the variety of exquisite patterns, elegant gold and platinum edges and artistic processing of colors.Fruits, figures and landscapes.
In 1895, the company moved from Edgerton, Wisconsin, to Chicago.Then in 1941, Picard moved from Chicago to Antioch, where they began the production of their own forms.
Today Pickard, Inc.It remains a family enterprise that proudly produces high -quality handmade porcelain.Each generation Pickard continues the tradition of producing ivory porcelain and white for individuals, as well as for state and corporate organizations, both internal and international.