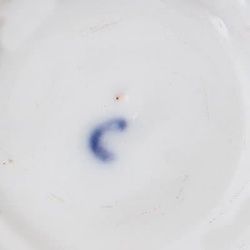 The private porcelain plant was founded by Anton Trofimovich Safronov in 1814 in the village of Korotokoy Bogorodsky County of the Moscow province (Gzhel).After the death of the founder, he switched to the possession of his relative Ilya Abramovich Safronov.
The plant lasted until the 1850s, but in the end it was absorbed by more powerful competitors of the porcelain industry - at first it was leased, and then S. T. Kuznetsov (the father of M. S. Kuznetsov), who transferred it into Dulleov, was redeemed.
It was made exclusively porcelain.Since the 1830s, the plant entered a fierce and desperate competition with the Gardner factory, not stopping at anything: Gardner's colors and forms were taken, plots of figurines and mural motifs were adapted.
At the same time, one cannot fail to note the identity of the products and the talent of masters.The landscape motifs are original, and figure compositions are made quite skillfully. In 1835, at the Moscow exhibition of manufactory products, the products of the Safronovsky plant were exhibited: vases, figures, tea devices.Products were distinguished by high qualities, were not at all inferior to the best works of the Gardner plant and were awarded universal recognition .. Emalen jewelry was especially successful.
The plant produced porcelain dishes and sets, decorative vases, sculptures.In terms of product quality, the Safronov plant was considered one of the best plants in Gzhel. The objects were drew in blue underglazuric stigma in the form of the letter C, which was similar to Gardner, thereby misleading buyers.