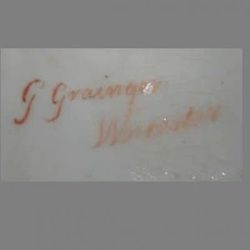 The Woster porcelain Granger was founded by Thomas Granger (1783–1839), who was a student at the Woster factory Roberte Chamberlain with his partner John Wood.Founded in 1801 as a competing company for the production of porcelain in the rented property in Lawsmore, Woster, they, like Giles and Chamberlain, began with decorating empty porcelain products manufactured by other companies.By 1804, they advertised the decoration of porcelain in local newspapers and by 1806 they opened a store on Woster-Forest Street.
Grainger & amp;Wood began to produce its own porcelain by 1807 and soon won a good reputation as a manufacturer of useful and decorative products.Rich patterns, such as Imari in the Japanese style, and exquisite tea dishes made serious competition to the city factories Chamberlain and Barr, Flight & amp;Barr.
Some extremely beautiful floral and landscape paintings were also created, usually on circles with straight walls or classic vases.After a factory fire in 1809, a new factory was built at the gates of St. Martin.
In 1839, after the death of Thomas Granger, his son George took over the management of the company and encouraged the production of exquisite decorative products.Granger accepted the Norokoko style in the 1830s and 1840s, producing a wide range of decorative vases, tea and dessert dishes.
This revival style, characterized by extravagant forms, bright saturated colors and gilding, was in fashion for the supplies of industrialists who could afford to spend money on their homes.George Grainger & amp;Co diversified its products, producing embossed fireplaces for fireplaces, unglazed porcelain figures and door accessories.They also achieved success in the development of chemical porcelain (for laboratory use) and semi -farphorus.
After the death of George Granger in 1889, the Granger factory was sold to Royal Worcerter, which continued to produce at the site at the gates of St. Martin, until it completely closed the plant in 1902.In the 1890s, the Granger factory specialized in the production of manual painting items for demonstration., richly decorated with precious stones, products and ivory porcelain in the style of Royal World.Grainger's pierced products were mainly the work of Alfred Barry.Unlike the pierced products of the Royal Worcester, the Grainger design, as a rule, has a curved style, and the holes correspond to a given template created in the form.
Many of the workers of the Granger switched to the Royal Worcester factory in 1902, including the famous family of artists Stinton.Even at the beginning of the 21st century, some forms and designs of the Granger factory were still used by Royal World.