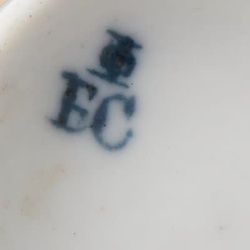 The factory was in the village of Kosherova, Bronnitsky.county.It was founded in 1819 by Gabriel Ivanovich Samsonov, from whom she passed to his sons to Terentia, Vasily, Ivan, Semen, Mikhail, Gerasim and Luke Gavrilovich.
Until 1873, she operated under the company of the Samsonov brothers, although in 1852 she was filed for Terenty, and in 1856 for Mikhail Gavrilovich Samsonov, who at one time at one time at the head of the company.In 1873, the post of section between the brothers and their sons, the factory turned into the property of Gerasim Gavrilovich and his two nephews: Nikolai Vasilyevich and Dmitry Terentyevich.
In 1875, the factory was destroyed. Porcelain, earthenware and semi -former products were launched.In 1856, the factory had two mountains and produced products for 6500 rubles, at 33 slaves.In 1872, the production reached 65 tons. Rub., At 131 slaves, but, according to Fedchenko, became about 1860, the Samsonov plant was considered one of the largest in the village.Gzhel order and made products in the amount of up to 100,000 rubles.