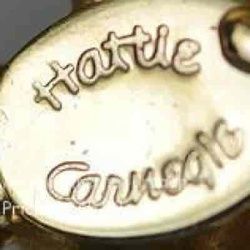 Hattie Carnegie is a special name in jewelry history.

The founder of the company, the daughter of immigrants from Europe named Henrietta Canengeiser, moved to New York with her family at the age of 14 in 1900.Her father was an artist, which probably formed her highly artistic taste.

Hattie Carnegie
History (or maybe a legend - there were a lot around her name) that she chose her creative pseudonym, asking the name of the most famous and recognizable person in America, which was a millionaire Carnegie.The name -pseudonym Hattie (English - from the English. "Hat" - "hat") appeared from the association with work in the hat department, where it was beginning to work.Starting a serious business from the founding of her first Carnegie-Lady Hatters store in 1909, she actually challenged the fashion world, GDA ruled a man's ball, and a woman who entered this road was seriously not taken into account.In 1923, her line of magnificent evening dresses was light, and from that moment she was already a famous person in the history of America.

Hatti Carnegie is often compared with Coco Chanel, only on the other side of the ocean, and for this there is every reason - both of them were in their own way icons of style - both as legislators of fashion, and as in a certain kind of model - a small low blonde Hutty with huge blue eyesShe looked like a Gibbbson girl.
The main focus of business development was clothing and hats, and an independent line of jewelry (before that, the jewelry was produced only as an addition to dresses) entered the market only in 1939, focusing (like her - rather like -minded people, although competitors are also Coco Chanel and ElsaSchiaparelli) on creating sets to complete the "cocktail" images of beautiful ladies (necklaces, brooches, earrings and bracelets). Khatti often visited Europe in order to keep abreast of the fashion trends of her time, adopt experience and adapt European trends to American tastes and tendencies.Her customers were many Hollywood celebrities - Norma Sherer, Talula Bankhead, Joan Fontaine, Joan Crawford and many others.
Not being (unproven, but also not refuted) an independent designer of jewelry, Hatti hired beautiful and talented designers and, apparently, influenced their work.In the 60s, the famous Kenneth Jay Lane worked as a designer and creative director in the company.

Its brooches, made in various techniques, including metal, plastic (lucit), enamel, crystals and glass of the highest class, turned into the icons of the Hatty style in the 50s of the 20th century.